The immediate drought and changing climatic conditions of California challenges farmers to implement more drought‐resilient and carbon sequestering practices on their farms.  What can grape-growers in Napa County do to improve their farms' resiliency to drought and climate change, as well as ability to sequester carbon? With the help of many partners, Napa County RCD is trying to answer this question with a demonstration project at our Huichica Creek Sustainable Demonstration Vineyard (HCV) in the Carneros.
With funds from the USDA NRCS's Conservation Innovation Grant program, RCD has converted one 3-acre block of pinot noir at HCV into a block that has multiple perennial crop types (including cider apples), improved soil health, habitat for wildlife, and economic viability – so that the farm is resilient to change from lots of potential pressures. An important component of the project is to learn from our community. We know that many growers are successfully incorporating resiliency-building practices into their farming already, and we want to learn from that hands-on experience. Another key component is sharing our management decision-making process and lessons-learned, as well as the farm itself, with Napa County and regional grape‐growers through workshops, presentations, and "open farm" events.
RCD has created a Carbon Farm Plan (CFP) to document the carbon sequestering and soil health goals of the redevelopment phase as well as the farming practices carried out over the long term in the redeveloped block.  Carbon Farm Plans are similar to NRCS Conservation Plans — they inventory natural resources on the farm, but use net carbon impact as the organizing principle around how farming practices are evaluated and selected. For example, since the block we transformed had not been tilled in 23 years, which we presume has led to the accumulation of relatively high organic matter in the topsoils (4.8%), we chose to pull the existing vineyard with minimal implement disturbance so that much of that soil structure, soil health, and sequestered carbon was preserved. We succeeded in leaving ~50% of the block from being disturbed by implements. Since then, we applied 15 tons/acre of compost to the block to build organic matter content and we chipped the pulled vines in order to keep the organic matter (carbon) in the old vines on the farm.  Before planting, we only used a plow to define the new vine rows.
RCD has also improved the irrigation efficiency in the vineyard, with special attention paid to make irrigation in the redeveloped block a model system for drought resiliency. Read more about improving drought resiliency through irrigation system enhancements at Huichica Creek Vineyard at this link.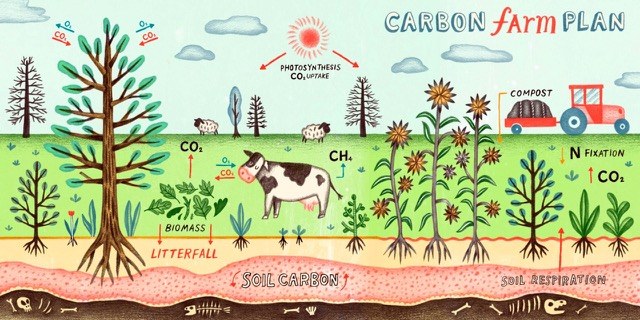 Marin County ranchers, with support from the Carbon Cycle Institute, are one of the first groups of farmers to use CFPs to document carbon sequestration benefits of their farming practices. They wanted to be transparent about their net impacts on carbon emissions, and potentially tap into emerging carbon cap-and-trade markets. To our knowledge, CFPs have not been applied to other types of farming. Vineyard operations seem like a good candidate to adopt the CFP approach because they do not necessarily require frequent tillage, and compost application is already fairly common. RCD is eager to use CFP to track quantitative measures of soil health, water use, and crop quality to see how these variables respond to various practices.
All aspects of this redevelopment from selecting a mulching contractor to choosing a new rootstock, are being guided by an Advisory Team of expert viticulturalists and academics. Project partners also include Napa NRCS Field Office, Napa County Farm Bureau, Napa Valley Grapegrowers, Napa County Agricultural Commissioner's Office, UC Cooperative Extension, and the Carbon Cycle Institute.