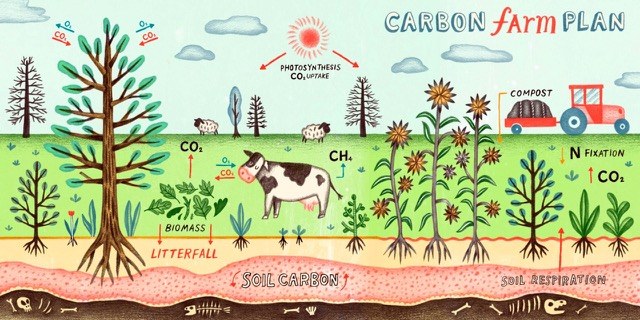 Napa RCD and its LandSmart® RCD partners are working with North Coast farmers to develop Carbon Farm Plans. Carbon Farm Plans identify practices that allow agricultural operations to increase carbon sequestration and reduce greenhouse gas emissions, and quantify climate benefits of implementing practices at the farm scale. Carbon Farm Plan practices also have potential to improve soil health, water holding capacity,  crop and forage production, water conservation, and on-farm habitat. Carbon Farm Plans may be developed for vineyard, range, orchard, and forest properties. 
Learn more about LandSmart Carbon Farm Planning at LandSmart.org.
Napa RCD is seeking growers who are interested in working with us to develop LandSmart Carbon Farm Plans for their vineyard properties.  For more information, contact Charles Schembre.
Download HCV Carbon Farm Plan (PDF)
Download LandSmart Carbon Farm Plan for Vineyards TEMPLATE (doc) or TEMPLATE (fillable pdf)
Carbon Farm Planning is funded by State Coastal Conservancy and California Department of Food and Agriculture